Product categories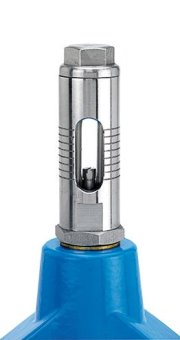 CHARACTERISTICS
The optical position indicator is factory preinstalled at control valve types 13xx, 14xx and 15xx, 1707, 1708 and 1709 on the central outlet of the valve cap. The indicator spindle of the position indicator is fixedly connected with the spindle of the main valve, thus always indicating the degree of opening of the main valve.
The sealing plug on the position indicator is provided with a stud screw serving the purpose of easily venting the pilot chamber.
Position indicators can be retrofit on all Hawle control valves.

Technical datasheet