Product categories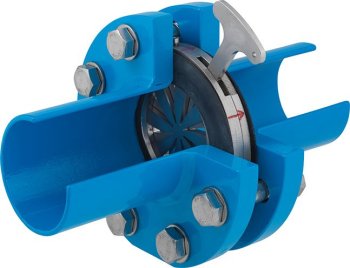 Art.Nº: 1090
Application: for use in drinking water sector (other on request)
DN200 PN10
DN40 - DN200 PN16
CHARACTERISTICS
The adjustable orifice plate can be used as static throttling element to adjust a constant flow rate or as cavitation prevention (dynamic pressure orifice plate) downstream of control valves. Whenever pressure conditions or flow rates change the opening surface can be increased and/or reduced with the valve in installed condition by turning the slide gate plate. When the opening surface is increased, pressure drop via the orifice plate is reduced. Vice versa, on reducing the opening surface the pressure drop is increased.
The orifice plate shall be installed between two fixed flanges with one gasket on each side. Make sure to observe the installation direction (indicated by an arrow on the orifice plate). Before installation, the orifice plate should be opened completely.
Note:
Max. admissible differential pressure: 5 bar
Please note:
The orifice plate cannot be used as a shut-off device since it doesn't close fully!

Technical datasheet