Product categories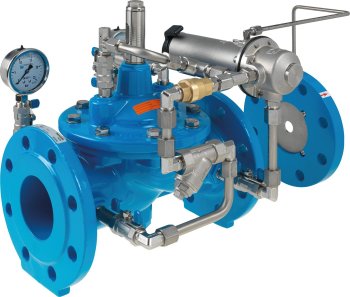 Art.Nº: 1301
Application: for use in drinking water sector (other on request)
DN: 1 1/2" - 2" PN16
DN200 - DN300 PN10
DN40 - DN300 PN16
CHARACTERISTICS
The flow control / limiting valve limits a preset max. flow from a higher pressure zone to a lower pressure zone, independent of varying operating pressures. The nominal flow is infinitely adjustable via the pilot valve up to +/- 15%. The non-return function prevents return flow when the inlet pressure is lower than the outlet pressure.
Minimum inlet pressure: 1 bar (Please consider: pressure loss due to main valve and orifice approx. 0.5 bar)
Make sure to allow for flow calming sections between the main valve and the orifice plate(x = 5 x DN) and downstream of the orifice plate(y = 3 x DN)!
For rating, please specify the following:
- Flow rate to be limited
- Inlet pressure (P1 side)
- Outlet pressure (P2 side)

Technical datasheet