Product categories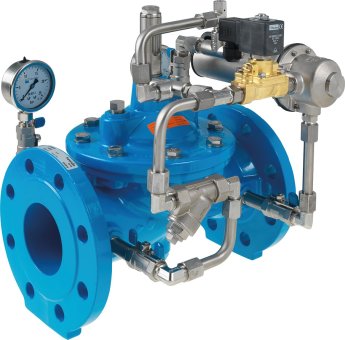 Art.Nº: 1504
Application: for use in drinking water sector (other on request)
DN: 1 1/2" - 2" PN16
DN40 - DN300 PN10
DN40 - DN300 PN16
DN80 PN25
CHARACTERISTICS
- Pressure reduction for network supply.
- Emergency feeding into a second network
- The main valve is put in operation via the solenoid valve (control system has to be provided by the customer).
Infinitely adjustable outlet pressure between 1 - 15 bar
The pressure reducing valve reduces a variable inlet pressure to a constant outlet pressure, independent of varying flow rates.
At zero current the main valve is in operation.
Outlet pressure adjustable between 1 – 15 bar
Minimum inlet pressure: 1 bar
Minimum pressure difference between inlet and outlet pressure: 1 bar
Including optical position indicator and vent screw
For rating, please specify the following:
- Max. flow rate
- Average flow rate
- Min. flow rate
- Inlet pressure
- Outlet pressure:
- Voltage (e.g. 24 V / 230 V)
- Type of power (alternating current / direct current)
- Version (open at zero current - Order No. 1504 /closed at zero current Order No. 1503)

Technical datasheet