Product categories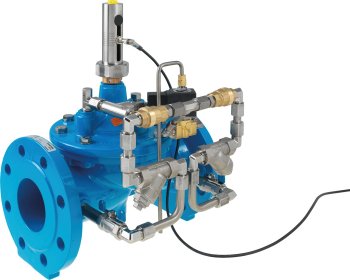 Art.Nº: 1706
Application: for use in drinking water sector (other on request)
DN: 1 1/2" - 2" PN16
DN200 - DN300 PN10
DN40 - DN300 PN16
CHARACTERISTICS
The pump protection valve opens after pump start at a certain time delay after the solenoid valve has been activated. Thus the system pressure rises up to full pump operating pressure. On a pump stop the solenoid valve is released first so that the main valve closes slowly before the pump stops. In case of a power failure the pump protection valve closes via the integrated backflow prevention device. Electric actuation has to be provided by the customer.
Use:
- Prevention of water hammers in the pipeline system downstream of the pump.
- Protection of the pump from overload due to dry running.
Minimum inlet pressure: 1 bar
Minimum pressure difference between inlet and outlet pressure: 1 bar
For rating, please specify the following:
- Max. flow rate
- Static system pressure
- Pump pressure
- Voltage (e.g. 24 V / 230 V)
- Type of power (alternating current / direct current)

Technical datasheet